Some tips, shortcuts and stuff you won't find in the manual, collected from different forum and personal experimentation. Please use only tips you understand – if you don't know what a factory reset means, you do not want to find out :)
Explanation
"Pinch" means using 2 fingers to zoom in our out (Google it if you don't know the word). The buttons are depicted here: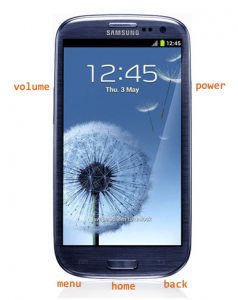 Swype keyboard
The Samsung stock keyboard has a Swype-like feature. You can enable this via: "Settings" > "Language and Input" and then click the wheel next to "Samsung keyboard" and check "Continuous Input".
Lock screen shortcuts

Go to Settings > Security, enable "With swipe lock" and then click on "Lock screen options". There you can enable different shortcuts for the lockscreen and modify them, display a clock, current weather and you can enable a nice shortcut for quick camera access [holding the device straight, tapping and holding the screen and then rotating the device].
Use S-Voice to unlock the phone: Choose "Wake up in Samsung Unlock" in the above menu.
Battery percentage display
Go to "Settings" -> "Display" -> "Display battery percentage" to show an additional percentage display next to the battery icon.
Application drawer by alphabet
In the application drawer you can choose an additional view setting: "Alphabetical grid". Open the app drawer, click menu, then "View Type".
Disable shutter sound [root only]
If you don't like the camera shutter sound you can disable it by renaming the following file: /system/media/audio/ui/Shutter.ogg – therefore root access is required. I haven't yet found out how to disable the shutter sound for burst shots.
Additional free apps from Samsung
There are some additional apps from samsung which can be installed for free: Start "Samsung Apps", click on "Category" and then choose "More Services". Apps I found useful:
"Flipboard", which is a very nice looking news reader – including Google Reader, Twitter and Facebook integration.
"Photo Editor", a good picture editing app.
Custom vibration patterns

You can create your own vibration patterns here: "Settings" > "Sound" > "Device Vibration". Then click "Create" and press the wheel to create patterns.
In Call EQ
A bit hidden: Open keypad, press menu, choose "Call settings", "Additional settings" and scroll down. There you can select different equalizer settings for calls and create a personalized one.
User interface
Phone wake up: Via home or power.
Hold menu: Quick access Android search.
Reboot: Hold menu and volume up for 8 seconds.
Double click home: Quick access voice commands – you can toggle this in the settings from "S Voice".
Screenshots 1: Press home and power simultaneously. Screenshots are copied to the clipboard.
Screenshots 2: Enable "Palm swipe to capture" in "Settings" > "Motion", then wipe the hand across the screen. Screenshots are saved in /sdcard/Pictures/Screenshots/
Home screen
Multiple home screens: Touch the dots to switch directly to a screen or hold and drag left/right to scroll very fast.
Changing shortcuts at the bottom: Open the App drawer (bottom right), drag an application to the home screen. Then drag it onto one of the shortcut locations.
Quick view current date: Hold the notification bar (on the top).
Pinch home screen to view all home screens and add/delete them.
Pinch application drawer to view all application screens and reorder them.
Set background image for lock screen: Change background images in "Settings" > "Wallpaper".
Android Apps
E-Mail: Pinch in the overview list to fold/unfold by date.
Contacts: Drag left over a contact to send SMS, drag right to call.
Keypad: Use the letters on number keys to type a name, the triangle on the right shows how many matching contacts are found, clicking on it reveals them.
Camera: Change shortcut buttons by clicking menu, "Edit", then modify shortcut buttons via drag&drop. You can configure shortcuts for picture and video mode independently.
Camera: Pinch to zoom in/out.
Browser: Pinch to view all tabs.
Browser: Go to "about:debug" via address bar. Now you can open a javascript console and have additional options when pressing menu.
Video player: Drag left/right to Fast forward/Rewind.
Video player: Power locks/unlocks the screen.
Settings: Open Settings/About Phone/Battery Use and click on the graph at the top to zoom and view more details in a timeline.

Easter egg from Google: Go to preferences, about phone, click some times on "Android Version" (try multiple times)
Miscellaneous hints
If you get an error when trying to uninstall an app: Did you assign the app as "Device Admin"? If so, you have to remove this before uninstalling (Settings > Security > Device Administrators).
Samsung offers a free service to track and control a lost or stolen mobile: Enable "Remote Access" in Settings/Location and Security. Then login at www.samsungdive.com (with your Samsung account data) to locate and remote control your phone.
Force TW Launcher in memory [root only]
If done wrong your phone might be unusable.
Open /system/build.prop as root with a text editor. Add following line at the end:
ro.HOME_APP_ADJ=1
Make sure the last line has one empty space, reboot.
Factory reset (Everything will be deleted!)
Via these three ways:
Turn phone off, press and hold: volume Up + home + power. Use volume keys to navigate up/down, home to execute.
In the phone keypad: Enter *2767*3855#
Menu: Settings > Back up and reset > Factory data reset.
Codes (enter via phone keypad, the ones below work for me)
*#0**# LCD Screen test *#06# Show IMEI Number *#2222# HW Version *#1234# Phone info/Firmware version *#34971539# Camera Firmware settings *#9900# Sysdump (Logfiles etc.) *#0228# Battery diagnostics *#7353# Function testing *#9090# Service Mode *#197328640# Service Mode Menu *2767*3855# Factory Reset (not tested.. :) ?