This is a beta version (Safari 5.1 only!) of the Safari Extension for pinboard.in. Feedback is very welcome: Found a bug? Don't like toolbar buttons? Any other ideas?
What's new?
There are now three toolbar buttons, two with a menu attached: Long click on the "Add to Pinboard" or "My Pinboard"-buttons now reveals a menu.
It's now possible to disable keyboard shortcuts.
The selection of "Use https://" for pinboard is now being respected in all areas.
Some fixes and code optimizations.
Debug switch in the preferences – you can ignore this one.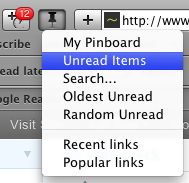 What's missing (but not forgotten :)?
I'm preparing the use of popovers (small windows popping up over the toolbar buttons) and the pinboard-API for more tasks. The problem with popovers is that they are Safari 5.1 only and the toolbar buttons must be visible, otherwise nothing happens. And that means a lot of additional code for some special cases. And that's why all this takes a bit longer.
How to install?
Download here, double-click. Restart Safari after installing.