Next beta version for the next release (3.0).
What's new (and interesting)?
New shortcuts for online css/html validation, minify
Notifications and result panel improved (now they save their position)
JSHint updated and it has more reasonable settings
Preferences menu reordered (debug is now on the advanced-tab etc.)
Error handling now (much) more consistent
Some validation results, new preferences: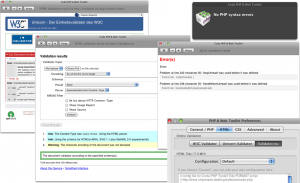 What's new (and not so very interesting)?
Used mostly Xcode 4, because of the native git-integration, but the PPC-version requires Xcode 3, so I used both in the end..
Rewritten large parts of the interface logic and the validation process
Rewritten the rest
Memory management improved
Completely removed curl, everything now in pure cocoa
Javascript calls now optionally without shell script (a long story..)
So please download and report bugs (or tell me that everything is fine..)