Posts like this usually get written around new year, but just today I felt like having a look back at the last year(s) of this website.
History of the website
I started the blog in january 2008, the website itself started around july 2005 and looked like this: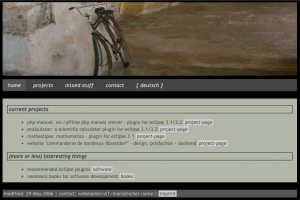 At that time I used mariofischer.name as domain, later on I somehow made up the current name, chipwreck. There was no specific reason for this word, but it wasn't used in any domain name back then – and I thought it was a completely unused word. Well, it's not:
Chipwreck: The remnants of a chip – potato or otherwise – that has broken apart upon an unsuccessful foray into the dip-bowl.
via
urbandictionary.com
Whatever.
Software
The first software I published was Ecalculator, a scientific calculator for Eclipse. Then I switched to OSX and soon after I wrote the Syslogviewer Dashboard Widget. I started to use Coda and hacked together an AppleScript which validated PHP code in Coda. Coda eventually allowed plugins, so the AppleScript turned into a Cocoa application and the focus of the plugin shifted from PHP only to a general web development toolkit with support for HTML, CSS and Javascript.
As mootools forge started, I decided to build mootools-plugins from some JavaScript snippets I used over the time – which turned out to be quite successful: CwComplete is the 11th most downloaded plugin there (and the most downloaded in its category), CwCrop the 26th. Of course that's no ranking and no sign of quality, but when I initially published them I expected that they were only of limited use to a few people. Turns out this was not the case :)

The most recent software I created was the safari-plugin for pinboard.in (the best online bookmarking service ever), which also was mere a fun/learning-project. I just wanted to try out safari plugins.
Statistics & Figures
Here's the history of visits and page impressions from the start of using analytics until now, looks like a good trend to me:
As Yahoo announced it would not continue with delicious (or at least not with priority), lots of users looked for an alternative solution, found pinboard.in and some of them looked for a safari plugin – as you can see here:

I can't tell exactly how many people are using the plugin – it was downloaded roundabout 6000 times (from this website and from the apple extensions gallery), but no idea how many people have since then uninstalled it.
The coda plugin on the other hand is easier to track: It was downloaded about 4.100 times, which I think is a lot, considering there's no official plugin gallery in Coda, only a link list on the panic.com website.
English?
When I started the website 2005 I wrote everything in English and German. This not only turned out to be quite tedious but (thanks statistics) I found out by far most users come from the US, so now everything is English.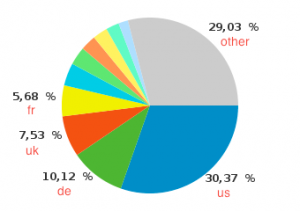 Outlook
I hope I'll find the time to write some more articles like those about mootools form validation, transitions or HTML5. They were lot of fun to write, but of course they're more time-consuming than just publishing an update.
And I'm very grateful for the people who donated money via PayPal/flattr and those who commented (be it a bug report, feature request or simply a comment like "nice software, thanks!"). That's both a very good incentive to continue with my software.