In case you don't already know Dropbox: It's a free online storage which gives you 2GB of space (which can be increased by being invited/inviting people (see below) – or by purchasing a Pro-Account for $99/year).
I use Dropbox now since about one a half year and can highly recommend it, so I decided to write a quick review.
Overview
Before this I used the Apple iDisk (mobile.me) to sync files between my computer at home and my laptop at work. But iDisk is, well, slow. Very slow. And slower. Did I mention that it's slow? It's also unreliable as a sync folder.
While mobile.me is really great for syncing calendars, address data, application settings and so on – the storage is good for nearly nothing. So I tried some other solutions and finally stayed with Dropbox.
Installation
After signing up, download the software and on every computer you use there's a folder created: Your dropbox. A soon as you put files inside on one computer, it's being synced to the Dropbox server – and instantly (nearly) available on any of your other computers.
Software
Dropbox runs on Windows, Mac, Linux and on smartphones (iPad, iPhone, Android and Blackberry).
In comparison to other solutions I tried, Dropbox is very fast and lean – you don't even notice it in the background. It's very mac-like and fully integrated into OS X. The Windows version should be similar (I've heard).
The application resides in the menubar and changes its icon according to the status (syncing, done,..). The dropbox folder itself is just a normal folder – with overlay icons showing the status. Very well integrated in the Finder this is.
Web interface
Because everything is also stored online, there's also a web interface and it's a good one. So you can access your files from anywhere via browser. And of course upload or delete files, share folders and so on.
Here two screenshots, one showing the file browser, the other one a history of your (file) events, which is of course only visible for you.
Additional features
You can share folders, files or photo albums with other people – either by making them public or by inviting only certain persons.
Undo/Undelete: Dropbox is suitable as a fast online backup, but not only for the current version! All recent versions of a file are stored for 30 days, much like Time Machine. Deleted files are also saved, so you can restore them later.
Efficient file syncing (like Rsync) – only the changed portions of a file are synchronized. That's for sure one reason why dropbox is so fast.
What I really appreciate is the Votebox: An online voting tool, which features should be implemented next.
Picture gallery
If you put images online, a nice gallery view is automatically being created – like this: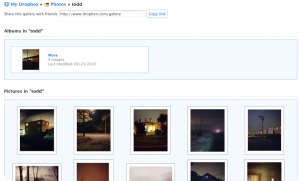 Security
All transmission goes via SSL and the files on the server are AES-256 encrypted. So only you can view your files. At least that's what they say :) But if you're concerned you can put everything in an encrypted file and upload that.
My impression
The software is continuosly updated and improved, questions in the forum are often being answered by the team and the whole tonality of the website is quite likable. But that's only a superficial impression of course.
I've read mostly very positive reviews from other people and the unavoidable security discussion – which usually ends with: Encrypt really sensitive data, for everything else it's as secure as any other cloud service.
Until now the service was nearly 100% reliable, I can remember two or three times when the website or the service was unavailable. This lasted some minutes only – and since all your files are stored locally, it's no big issue.
The only two drawbacks I could find are that there's no mobile app for Symbian phones (there's an unoffical one here or here) and for some uses 2 GB of storage might be too less (You can buy a pro account in this case).
Invitation (250 MB extra space)
One last thing: If you like, you can signup using this (my) invitation. This gives you 250 MB additional storage (and for me also of course.. :).