Tips and stuff you won't find in the manual, collected from the xda-developers forum, personal experimentation and other sources. Please use only tips you understand – if you don't know what a factory reset means, you do not want to find out :)
Explanation
"Pinch" means using 2 fingers to zoom in our out (Google this if you don't know the word). The buttons are depicted here: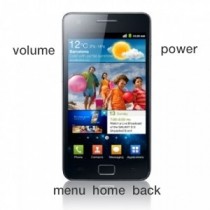 User interface
Scrolling:
– Use two fingers to scroll until fingers are released.
– Use three fingers to scroll fast until top/bottom.
Phone wake up: Via home or power.
Hold menu: Quick access Android search.
Double click home: Quick access voice commands.
Screenshot: Press home and power simultaneously. Screenshots are saved in /sdcard/ScreenCapture/
Home screen
Multiple home screens: Touch the dots to switch directly to a screen or hold and drag left/right to scroll very fast.
Changing shortcuts at the bottom: Click "Applications" (bottom right), then menu, click "Edit": Now change the three (left) icons via drag & drop. Afterwards click menu and choose "Save..".
Quick brightness change: Hold the notification bar (on the top) and drag left/right to modify brightness (if not set to auto).
Quick view current date: Hold the notification bar (on the top).
Pinch home screen to view all home screens and add/delete them.
Pinch application screen to view all application screens and reoder them.
Set background image for lock screen: When changing your desktop background image, there are two buttons, choose the right one (smaller area) and save. Now you'll be asked to use this image for the lockscreen too.
Android Apps
E-Mail: Pinch in the overview list to fold/unfold by date.
E-Mail: Click longer on a date (either the sent date or a date in the email text): Create a new calendar event for this date.
Contacts: Drag left over a contact to send SMS, drag right to call.
Keypad: Use the letters on number keys to type a name, the triangle on the right shows how many matching contacts are found, clicking on it reveals them.
Camera: Change shortcut buttons by clicking menu, "Edit", then modify shortcut buttons via drag&drop. You can configure shortcuts for picture and video mode independently.
Camera: Pinch to zoom in/out.
Browser: Pinch to view all tabs/windows.
Browser: Go to "about:debug" via address bar. Now you have additional options when pressing the menu (at the bottom)
Browser: Go to "about:useragent" via address bar. Now you can modify the user agent string.
Video player: Drag left/right to Fast forward/Rewind.
Video player: Power locks/unlocks the screen.
Calendar: Pinch in month view to get an overview, swipe left/right to change the year.
Settings: Open Settings/About Phone/Battery Use and click on the graph at the top to zoom and view more details in a timeline.
Easter egg from Google: Go to preferences, about phone, click some times on "Android Version" (try multiple times)
(Forum link: Feature discoveries – xda-developers)
Miscellaneous hints
If you get an error when trying to uninstall an app: Did you assign the app as "Device Admin"? If so, you have to remove this before uninstalling (Settings/Location and Security/Device Admin).
Samsung offers a free service to track and control a lost or stolen mobile: Enable "Remote Access" in Settings/Location and Security. Then login at www.samsungdive.com (with your Samsung account data) to locate and remote control your phone.
Factory reset (Everything will be deleted!)
Via these three ways:
Turn phone off, press and hold: volume Up + home + power. Use volume keys to navigate up/down, home to execute.
In the phone keypad: Enter *2767*3855#
Menu: Settings > Privacy > Factory data reset.
Codes (enter via phone keypad, the ones below work for me)
*#0*# LCD Screen test *#06# Show IMEI Number *#2222# HW Version *#1234# Phone info *#34971539# Camera Firmware *#9900# Sysdump (Logfiles etc.) *#0228# Battery diagnostics *#7284# Phone utility *#7353# Function testing *#9090# Service Mode *#*#197328640#*#* Service Mode Menu *2767*3855# Factory Reset (not tested.. :)