New features and nice bugfixes for the Coda plugin.
Configuration for JSTidy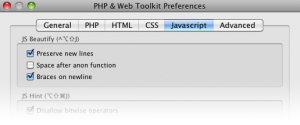 Validation results improved
The results window now has another look (HUD-style) and the output has improved:

Automatic update
Since the plugin can't use the Sparkle framework (because Coda itself uses it) I had to implement downloading, unpacking and installing in the plug-in.
So if an update is available:
New version will be automatically downloaded and unpacked
Coda then asks to replace the existing plug-in – which you should do (see screenshot).
Don't forget to restart Coda afterwards
If the download fails for one or another reason, you can download via the website like before.
Small stuff
The preferences are better structured (that's what I think :), proCSSor bugfix respect tabs/spaces where available, validation results look even better now, improvements for PHPTidy and JSHint.