How cool is that?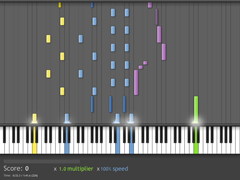 There are not many good learning-programs for Keyboard/Piano, but Synthesia is an exception.
First at all: It's free.
Second: It doesn't require you to learn note reading.
Third: It runs on OSX and Windows.
Fourth: You can play any piece you like, you simply load the MIDI-file and select which track you play.
I could add some more points about how cool this software is, how active the developer is, and so on.. But if you own a MIDI-Keyboard, you should simply have a look: synthesiagame.com »