This is the Safari 5 extension for pinboard.in – not in active development.
Current version: 2.78 (Mac and Windows) | 2.91 beta (Safari 5.1 only)
Features
Toolbar, Buttons, Context menu – can be separately enabled/disabled

Add to Pinboard, read later, view/search your bookmarks, unread items

Configurable keyboard shortcuts

Show number of unread bookmarks as badge

Open links and Add to Pinboard: In same tab/new tab/new window/popup

Add via drag & drop (on the pinboard toolbar)
Download
Download Pinbar 2.91 beta (Safari 5.1+ only!) »
Quick Overview & Screenshot
Usage
You should be logged in at pinboard.in of course. The extension doesn't access your personal information.
2.6 uses now the Pinboard-API for Number of unread links:
– You have to login to api.pinboard.in (with your usual pinboard username/password).
– Click Save to Keychain so the login only appears once.
How to install
First enable Extensions (disabled by default in Safari 5.0): Enable "Develop menu" in the Advanced pane of Safari Preferences, then "Enable extensions" in the Develop menu.
Download above & double click to install — or at extensions.apple.com)
The toolbar can be disabled in the "View"-menu, the buttons can be added or removed by customizing the Safari toolbar.
Settings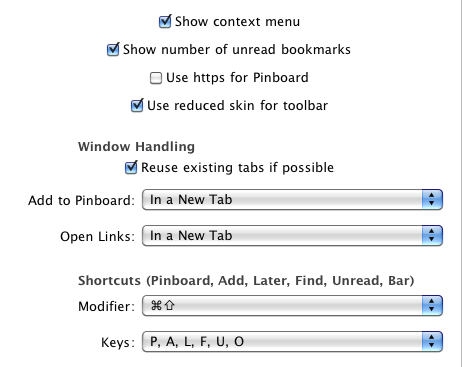 Go to Safari Preferences and click on Extensions, choose Pinbar from the list of extensions.
Show context menu – Turn the context menu on or off (shown if you right-click on a page)
Show number of unread bookmarks – Shows a badge with the number of your unread bookmarks on the "Unread"-button in the toolbar.
Use https for Pinboard – Opens Pinboard pages via https.
Use reduced skin for toolbar – Displays the toolbar in an alternate style.
Reuse existing tabs if possible – Opens your Pinboard, Unread Bookmarks and Search always in the same tab/window if the page is already open.
Window Handling – choose if "Add to pinboard" opens on the same page, in a new tab, a new window or a popup. Same goes for the links to your pinboard, recent, unread etc.
Keyboard shortcuts – A modifier and a set of keys can be chosen. The keys are responsible for "My Pinboard", "Add current page", "Read later", "Search bookmarks" and "Toggle Toolbar" (in that order).
If the Pinboard toolbar is shown, you can see the keyboard shortcuts immediately on the respective buttons.
Toolbar
You can show or hide the Pinboard Toolbar in the "View"-Menu of Safari.

Buttons – should be self-explanatory: Save current page to pinboard, read later .. and so on.
Search – Enter a term in the search field and press "Enter" to search in your bookmarks. The result is shown in the browser.
"?"-Button – Short help
Drag & Drop
You can also drag the favicon onto the toolbar to bookmark the current page.

Buttons

Right click on the Safari toolbar and choose "Customize Toolbar" to remove or add buttons.
Context Menu
Enable/Disable in the Settings
If you right-click on a page you get these two additional entries. When over a link, you can add/unread the link target.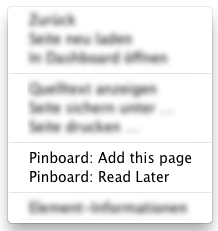 Notes
This is my own work and is not affiliated with pinboard.in. If you have problems, wishes, suggestions- use the comment function below.
Like this?
Leave a comment, visit the ads or donate.
And you can add it to your apps at iusethis.com ».
Planned features
Configurable keyboard shortcuts for Add to Pinboard, Read Later, View Pinboard — in current beta)
Unread items (Simple button)
Link to this page (aka Help)
Search bookmarks (Result in the browser)
Maybe and cool: Add to Pinboard via layer
Context menu – and make it configurable
Soon: Try to bypass "extensions can't open popups" – I've got a plan..
Okay, let's be honest, no one reads all this here – integrate a short documentation (layer or a page)
Drag & drop of URLs (from the address bar) onto the toolbar the bookmark button if this is possible
Check if drag & drop on toolbar works. Works, only buttons don't.
Option to reuse existing tabs/windows for pinbar/unread
Better Handling of esc when using search
When right clicking on a link, bookmarking the target would be cool
Red Badges look nice – maybe the number of unread items on a button
Configure skin
Improve context menu handling of links: In Google Reader the title is not correct. (should work in the current Beta)
Check out new Safari 5.1 features (and bugs…)
Use the API to search/add bookmarks/handle tags and find a good UI concept for this.
What's new? (Changelog)
2.78
Improvement: Description can be up to 2048 chars long (more is not possible, because the URI gets too long otherwise). Thanks Andrew Rosen!
2.76
Google reader support
Certificate update
2.7
Save tabset added
Icons improved
2.6
Use API for number of unread bookmarks
Code optimization
2.5
Alternate toolbar style
2.4
Number of requests greatly reduced (for the unread badge)
Prepared new features: API call, alternate toolbar design
2.3
https-Support (Enable in the preferences)
2.2
Bugfix for the bugfix for unread badge in new windows..
Dismissed the idea of alert-windows
2.1
Bugfix for unread badge in new windows
2.0
Unread button with optional badge (number of unread items)
New option: Reuse existing tabs/windows
New shortcut: Toggle toolbar
Context menu: Adding a link now add its target
Add to pinboard via keyboard or context menu now uses the selection (if present) as description.
Toolbar somewhat reordered.
Search field now uses selection and is cleared when pressing escape.
Alert if you're trying to enable unread badge but the button ain't visible.
Code minified + performance
1.91
Small fix
1.9
Shortcut for unread
Drag & Drop
Open in popup
Context menu (enable/disable in settings)
1.8
Search field + shortcut
Unread button
Code cleanup nr. 4879
New icons, cooler CSS
Help button
1.75
Configuration for Shortcuts
Dynamically enable Toolbar buttons
Bugfix for links not respecting setting
1.7
Keyboard Shortcuts
Code cleanup
1.6
Add to pinboard icon improved
1.5
Choose where you'd like the pinboard-links to open (same page, new tab, new window)
New toolbar icon
1.4
Now includes a custom icon
The "Add in new window/tab/same page" buttons have been replaced by a single button ("+ Pinboard"), which can be configure via the Extensions pane (Safari / Preferences / Extensions
The toolbar design has improved a lot thanks to Ian Soper (iansoper.com)